3x4 Pop-Up For Screen
3x4 curved is 3m wide x 2.2m high approx.
Product information
Pop Up Exhibition Stand For Screen



> Superb 3x4 curved pop up exhibition display stand.
> Brackets and devices available separately for all our pop up sizes. Screens NOT included.
> 2.2m high and 3m wide when assembled.
> Option to incorporate iPad holders and screens up to 60" (42kg max. weight).

> Lifetime guaranteed UK made pop up frame.
> A complete set of full colour LAMINATED graphics printed with your design.

> A robust, wheeled, moulded transit case which turns into a counter.
> Free! Two 150W halogen lamps (additional lights available at extra cost).
> Free! printed wrap for the case conversion.
> Free! Smart folding wooden top to complete the case-to-counter conversion.
> Ask about our compatible advertising screens.



All you need do is supply us with an artwork (or ask about our artwork service) and we will get your display back to you, ready to use, double quick. Fast and easy to assemble - just watch the video below.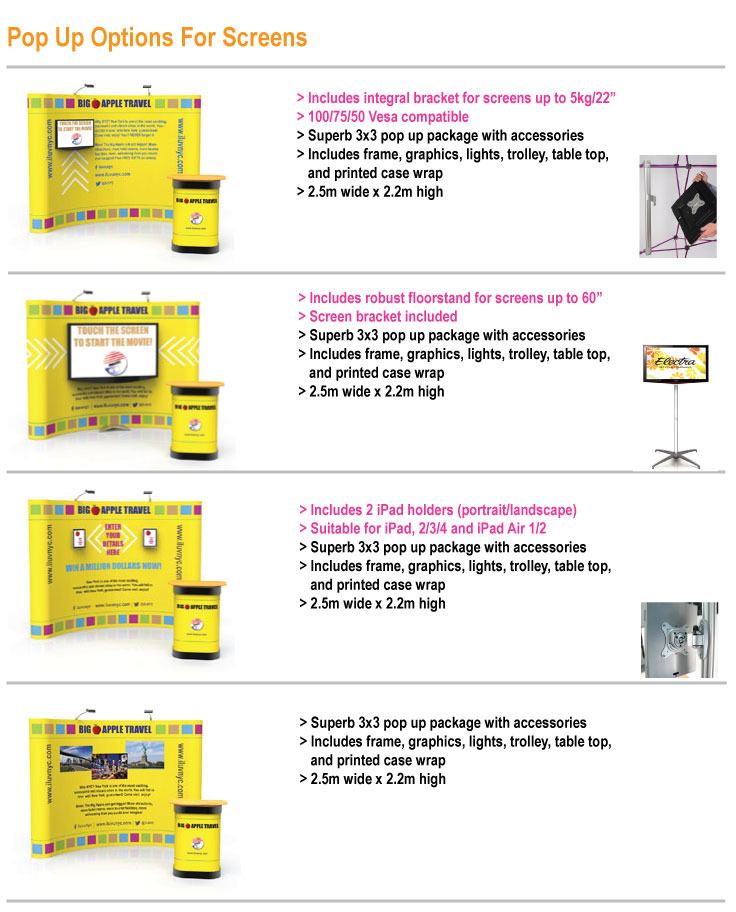 Assembly




This pop-up exhibition stand takes about 10-15 minutes to unpack and assemble. No tools are required. The panels are held on to the frame by magnetic strips.

The video below is an example of a pop up to demonstrate assembly principles and may not reflect the actual product.





Pop up stands are an incredibly useful display tool and can be assembled in just a few minutes
Our kits comprise everything you will need to stage your exhibition. For example the kit is contained in its own transit case which doubles up as a storage device as well. It also becomes your counter or reception desk. No need to find a separate counter or table. We also provide you with a printed wrap which goes around the outside of the case to brand it. You can have anything you want printed on this. Plus we give you a folding wooden top which sits on the case to finish things off. The graphics and frame and lights all pack down neatly into the transit case. Once your event is over you can pack down and wheel away. It will go comfortably on the back seat of most cars, or in the boot. The graphics can be just single sided or double sided, whatever you prefer. You can even change them whenever you want. Just order new graphic panels! We also have popup up models to fit most stand sizes. The most popular size we sell is the 3 x 3 which measures 2.5 m wide when assembled. Please refer to the size chart above or call us on 0845 470 0845
---
Pop up exhibition stands have become the most popular choice for fast, easy, low-cost exhibiting. They are ideal for shell scheme exhibitions and anywhere where a fast, portable, non-permanent display is required.

We offer pop-up stands in straight and curved format. In terms of size we can supply pop up stands to literally any width. In addition we are able to supply pop-up stand in heights up to 2.9m and custom options even taller. Please ask for details of these custom sizes.

We supply all our pop up stands with hard wearing graphics which can be changed easily. You simply purchase another set of graphic panels to refresh your stand with your updated message. It is also possible to change one or two graphic panels within a set. This makes the pop-up stand incredibly flexible and adds to its huge popularity.

Or our pop up stands are fully guaranteed so you can buy from us with total confidence. All you need do is to supply us with an artwork to print from (if you do not currently work with a graphic designer we can help with artwork too).

If you need help with the layout and design of your stand, or if you are unsure of the size that you will need that will best fit your exhibition or event space, then just give us a call and we'll be happy to help you plan.

Click for other sizes
3x1 pop up curved
,
3x2 pop up curved
,
3x3 pop up curved
,
3x4 pop up curved
,
3x5 pop up curved
, 3x6 pop up
3x1 pop up straight, 3x2 pop up straight, 3x3 pop up straight, 3x4 pop up straight, 3x5 pop up straight,
3x6 pop
---
Technical specifications
| | |
| --- | --- |
| GTIN | FALSE |
| Brand | pu3x3q |
| Product Code | mag3x4xpx1 |