Exhibition Stand
Exhibition Stands For Smaller, Medium & Larger Spaces
---
We will work with you to create your ideal exhibition stand. We specialise in the design and supply of complete exhibition stands of all types and sizes, particularly portable, re-usable modular systems suitable for installation by our clients with no need for specialist contractors. Our range of products and solutions is comprehensive so please call us to talk to a display expert if you do not immediately see what you need.

If you have a requirement for a system stand then please call us directly to discuss the details of your brief. For medium-larger stands we offer a complete 3D design service along with a complete turnkey solution to create your stand.

---
Full Service Modular Exhibition Stands To Buy Or Rent
Do you need a fully managed exhibition stand? With a full design, build, installation and project management service? Our Linx system is now able to accept fabric graphics as well as more traditional graphics. We will design, build and install anywhere, any time.
---
New! Fabric Display System - EASY SELF INSTALL
An excellent system concept. This system is designed primniarily for fabric graphics but will also accept rigid board graphics, rollable magnetic vinyl graphics as well as superb fabric graphics.

Curved or straight panels available. A full range of accessories includes screen and iPad brackets, lights, screen brackets amongst others. Call for details.
---
Magnetic Pop Up Stands
Magnetic pop ups have long been the exhibitor's first choice in portable trade show display. The stand, graphics and lights pack away neatly into the transit case which doubles up as a clever counter. You can join them together to make displays as wide as you wish, there is literally no limit. You can also add a screen which integrates into the display stand so you can loop your presentation, jpegs or video with sound.
Call for details or
click the image.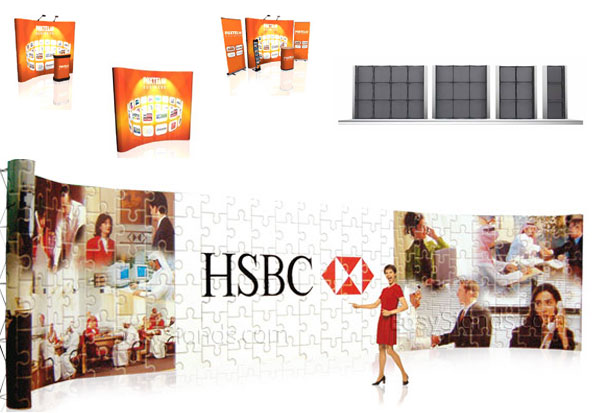 ---
Modular System
A top class, robust system with a series of unique features.

Fast to install thank to the Twist and Lock feature.

Easy to transport. It all packs down into handy wheeled cases.

Attractive silver finish adds to the overall impact of your graphic displays.

It is highly modular. Add to it or make it smaller according to your stand size. Bracket sections for iPad Holders and screens 22"- 42".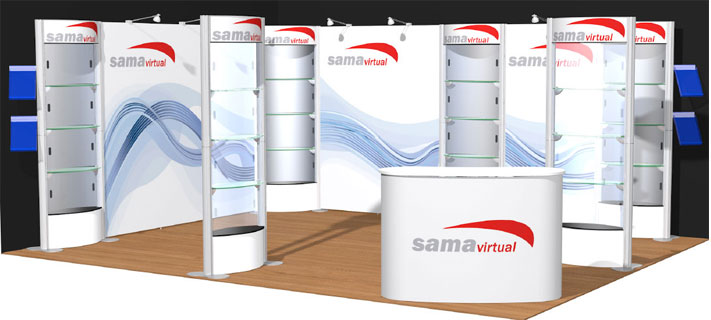 ---
Twist Curve Flexilink
A Low Cost Alternative To The Twist System - from under £380.00.
This system features a flexing panel which means you can use it is a straight[ line or angle it to go in a corner. Join two kits together and you have an even more flexible option for larger space. The tension system keeps the graphics in place whilst a unique fixing system holds the panels together to create a near-seamless effect. Keep adding section to create widen and wider displays. Ask for a free floor plan showing this stand on your space.
---
T3
Superb Do-It-All exhibition system. T3 may be the only system you will ever need. It does everything you need a system to do. The secret is in the cube connector. Lightweight aluminium beams lock together with the connect to form any shape you want, large or small. The robust parts will last for hundreds of uses and you can order new parts to enlarge your system. Brilliant. The ultimate modular system. Ultra simple assembly. Infinitely re-configurable. Snap on magnetic panels. Replacement graphic panels available.



Gantry System
Robust All Purpose System. A very simple concept indeed. The beams simply lock together to form a robust display with great flexibility. Banner graphics can be fixed with cable ties or bungees. Gantry can also be used to enhance a pole and panel system. A low cost, high value display option.
---
Aero Display System
Fast Assembling System, fully extendable. This system is simplicity itself. You can purchase the bases and poles for the uprights. These can be set up as you wish and at three different heights. Then you place the spring loaded graphic cassette across the top of two posts and pull down the banner, just like a window blind. Your display is complete. You can add as many graphic cassettes as you please and build the system as wide as you wish, Fast assembling and robust.


---
Linear Display System
Popular Modular Display System. Linear can be used to create small, medium or larger displays from a single system. We offer a range of popular, pre-designed kits as well as fully custom designed and built systems for exhibition, retails and all other uses. We offer a choice of rollable magnetic graphics, rigid panel graphics and fabric graphics so please contact us to discuss your preferences.
---
Banner Stands
Low Cost, Fast, Portable Display.

---
Custom Pop Up Stands
Pop Ups Made To Order. Custom pop up exhibition stands can be used to dress a shell scheme exhibition stand as it can be tailored to provide a continuous graphic display according to the shape of your shell scheme. A custom pop up can also prove the best value for money option for your exhibition display stand.
---
Showing 0 - 0 of 0 products
Sorry, this category has no products