VIRUS PROTECTION COVID 19
---
DOWNLOAD COVID19 SECURITY BROCHURE
Items suitable for all premises including...
school I office I in-store I outdoor I workspace I public place I canteen
hairdresser I college I pub I optician I dentist I work place I banks
restaurant I bar I cafe I gym I salon I spa I showroom I factory
hotel I outdoor I barber
---
Luxury car maker Aston Martin Lagonda, employs 3,000 people across eight sites in the Midlands and South Wales.
James Stephens, Director of Government and External Affairs at Aston Martin, discusses the safer working guidelines introduced to protect the employees and ensure they feel confident about returning to work at its St Athan site.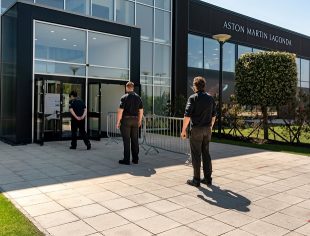 "So far, around 600 of our staff have returned to work at the South Wales site, but we expect this to increase as we begin opening our other sites.
We accessed and continue to use the Coronavirus Job Retention Scheme for workers we have had to furlough. However, bringing back employees that are able to work, and doing so in the safest way possible has meant we haven't had to rely on other schemes.
Using a cross functional team, we developed our return to work guidelines by following Public Health Executive (PHE) and Health and Safety Executive (HSE) guidelines, as well as consulting with our Trade Union.
The health and safety of our employees always comes first, so using the guidance available we have been able to implement a range of safer working practices that our staff returning to work need to adhere to."
The key principles Aston Martin has introduced are:
Controlled entry and exits
PPE equipment provided, with masks worn at all times (in line with company's risk assessment)
Sanitiser dispensers available across sites
Cleaning frequency increased in all areas and across all sites
Seating areas rearranged to comply to social distancing guidelines
Meeting rooms closed
Introduction of staggered start and finish times
Break times also staggered
Visuals, daily briefings, and posters to remind employees of social distancing and hand washing
All but essential travel is not permitted, no visitors, and only agreed contractors on site
Mr Stephens continued: "Adherence to these safety principles is mandatory to protect our staff, their families and their workmates. Anyone not complying may be asked to leave the site and disciplinary measures applied.
"These guidelines introduce consistent measures across all our sites to meet Government recommendations on social distancing."
---
Social Distancing Safety Barriers & Equipment For Schools, Shops & Work Places
---
Please see below our range of Social Distancing safety barriers and products to help you protect your people and keep you compliant with Health & Safety in schools, offices, shops and work places. Please ask if you do not see what you need. For quotes and delivery times please email us with the details: mail@abcexhibitions.com